Description
Hospice Marlborough provides the following services:
Nurse practitioner assessments
Referral procedure
Assessment visit
Care at home
Advanced care planning
Community palliative care nursing team
24 hour telephone advice service
Inpatient unit for symptom control, respite and long-stays
Palliative care clinic
Medical specialist clinic
Clinical nurse specialist clinic
Lymphedema and cancer care massage
Day programme
Whanau Ora service
Spiritual support and care
Biography and letter writing service
Bereavement support
Education for patients, carers, volunteers, our staff and external primary and secondary staff
Social work support - contact 03 578 9492
How do I access this service?
Website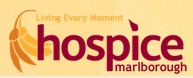 Contact Details
Street Address
Wairau Hospital
Hospital Road
Witherlea
Blenheim 7201
Postal Address
This page was last updated at 11:42AM on March 16, 2018. This information is reviewed and edited by Hospice Marlborough.