Description
QuayMed is a modern purpose built healthcare clinic offering a full range of medical services in the heart of central Auckland. We combine traditional general practice and family medicine skills with an emphasis on preventative care and well-being with a high level of expertise in acute injury, accidents and urgent care. The practice has Cornerstone Accreditation recognizing the high quality of its primary health care service. Patients can be seen by appointment or "walk-in".
Please ring 09 919 2555 for an appointment or just drop in.
Hours
8:00 AM to 6:00 PM.
| | |
| --- | --- |
| Mon – Fri | 8:00 AM – 6:00 PM |
| Sat | 9:00 AM – 1:00 PM |
Fracture Clinic with Consultant Orthopaedic Surgeon Dr Terri Bidwell: Mondays 16:00 - 17:30 BY APPOINTMENT ONLY and with GP REFERRAL.
Books
Open
This practice is taking on new patients.
Languages Spoken
Cantonese, English, French, Japanese, Mandarin, Tongan
Fees
Enrolled & Funded Patient Fees
| | |
| --- | --- |
| Under 14 years | No charge |
| 14-17 years | $12.50 |
| 18-24 years | $18.50 |
| 25-44 years | $18.50 |
| 45-64 years | $18.50 |
| 65+ years | $18.50 |
NB We are a VERY LOW COST Access Practice. The above fees apply only to patients who are enrolled and fully funded.
Additional fees may apply for additional services such as ECGs, dressings, long consultations and non-GMS consultations. A full list of fees is available at Reception and we endeavour to inform you if you are incurring additional costs during a visit.
ACC charges are $50 for a first consultation and $33 for follow-up visits for ALL patients 13+ years.
Our fees for casual and non-enrolled patients are $90 for medical consultations and $75 for follow-up visits within 3 weeks.
Our fee for non-resident patients (all ages) is $120 for medical consultations.
There is a $20 surcharge on all consultations from 5 pm and on Saturdays.
Additional fees may apply for additional services - please see above.
Services
Minor Accident Care
Primary care practices offer a range of services and are able to deal with most minor accident care. If they are not able to deal with an injury they will…
Adult and Child Medical Care
Your GP's surgery is far more than a place to go when you are feeling unwell and needing a quick cure. The doctor who sees you has gone through an…
Website
Online Booking URL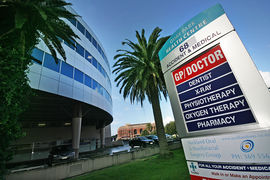 Contact Details
Phone

(09) 919 2555

Fax

(09) 307 8053

Healthlink EDI

quaypark

Email

Website
Book an Appointment
Street Address
68 Beach Road
Auckland 1010
Postal Address
Ground Floor
68 Beach Road
Auckland City 1010
Would you recommend this service to family & friends?
This page was last updated at 3:06PM on February 21, 2019. This information is reviewed and edited by QuayMed Accident and Medical.