Description
We are a family centred, non-corporate General Practice clinic offering a full range of GP services to you and your entire family, always aiming to provide quality healthcare for all patients with an emphasis on health education and preventative medicine.
Consultations are by appointment but we will take walk-ins whenever we can and urgent cases will always be squeezed into our roster.
Our team includes our resident doctor, Dr Frederick Goh, back to West Auckland.
Dr Fred graduated in 1991 and is an accredited family physician in Singapore who ran his own GP practice for 14 years, before coming to New Zealand in 2013. Patients in West Auckland will no doubt be familiar with Dr Fred's work from his 3 year stint at The Doctors New Lynn.
Having worked in East Auckland for the last 10 months, we are happy that Dr Fred is now returning to the west, bringing his 26 years of family medicine experience and accumulated clinical acumen to our new practice in West Harbour.
He has many varied interests in various aspects of general practice including outpatient ear, nose and throat, eye, bones and joints, mental health, sexual health and chronic disease management.
He has 6 children and enjoys seeing kids and getting them well. He is well-versed in all aspects of having babies and caring for them, from pre-conception, pregnancy to newborn care.
An author of 2 diet books, he is a passionate medical educator who strongly believes in empowering patients with the knowhow to prevent and manage cardiovascular disease, diabetes, high cholesterol, obesity and hypertension.
Dr Fred speaks fluent English, Mandarin and 3 Chinese dialects namely, Cantonese, Hokkien and Teochew and some Malay.
His unique personalised style stems from his philosophy of treating every patient like family.
Dr Fred is accepting new enrolments and we warmly welcome you to join us at Luckens.
Dr Fred is happy to be supported by our Practice Nurse June Dunn, who is well known and respected in the West Harbour and Hobsonville community. A veteran nurse with many years of clinical experience, she is great with children and vaccinations. She is also trained to do PAP smears and yearly immunisations for influenza. Her friendly smile and hearty laugh will warm your heart.
General Practitioners
General Practitioner
Hours
9:00 AM to 5:30 PM.
| | |
| --- | --- |
| Mon – Fri | 9:00 AM – 5:30 PM |
| Sat | 9:00 AM – 1:00 PM |
Saturday opening hours to commence on 4 May 2019.
Closed Sundays and public holidays.
Public Holidays: Closed on all public holidays.
Books
Open
This practice is taking on new patients.
Languages Spoken
English, Cantonese, Hokkien, Malay, Mandarin
Fees
Medical Consult

Registered

Community Card
(& Registered)

Casual

Non-resident

Under 14 yrs
Free
Free
$30.00
$40.00
14-18 yrs
$32.00
$12.50
$70.00
$80.00
18-64 yrs
$37.00
$18.50
$70.00
$80.00
65+ yrs
$32.00
$18.50
$70.00
$80.00
Follow Ups
$20.00
$18.50
$35.00
$35.00

ACC Consult

Registered

Community Card
(& Registered)

Casual

Non-resident

Under 14 yrs
Free
Free
Free
$40.00
14-17 yrs
$30.00
$12.50
$40.00
$80.00
18+ yrs
$30.00
$18.50
$40.00
$80.00
Follow Ups
$15 (or free <14)
(as above)
$30.00
$60.00
Click here for fees for other services
Saturdays incur an extra $15 surcharge per consult.
Services
Adult and Child Medical Care
Your GP's surgery is far more than a place to go when you are feeling unwell and needing a quick cure. The doctor who sees you has gone through an…
Immunisation
Immunisations are provided at all primary care practices and are one of the most important services they provide. Immunisation has led to the decline of many lethal diseases including meningococcal…
Minor Surgery
Minor surgery is commonly provided in primary care practices, providing fast, competent removal and biopsies of skin lesions. Other services include cosmetic work such as removal of benign moles and…
Repeat Prescriptions
Each GP surgery or primary care practice will have its own procedure for repeat prescribing but the following rules are common to most, if not all. Patients who are well-known…
Liquid Nitrogen
Liquid nitrogen is a fast, effective treatment provided in many practices to treat viral warts, sun damaged skin, skin tags and many benign cosmetic lesions. It comes in a container…
ECG
An ECG is a recording of your heart's electrical activity. Electrode patches are attached to your skin to measure the electrical impulses given off by your heart. The result is…
Spirometry
Spirometry is a tool that measures how effectively your lungs are working. It is able to show how much air lungs are able to hold (their volume) and how much…
Travel Advice / Immunisations
Another service offered to you at your GP surgery (primary care practice) is advice and immunisation before you go to another country. While you are likely to have the immunisations…
Document Downloads
Enrolment Form (PDF, 668.9 KB)
Please print, complete and bring it along with your Passport or NZ birth certificate to enrol!
Website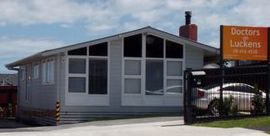 Contact Details
Phone

(09) 416 4538

Fax

(09) 416 7518

Healthlink EDI

dr39luck

Website
Contact us online here
To join the practice, complete the patient enrolment form and email, fax or drop it in to us.
Street Address
39 Luckens Road
West Harbour
Auckland 0618
Would you recommend this service to family & friends?
This page was last updated at 12:59PM on April 1, 2019. This information is reviewed and edited by Doctors on Luckens.