Today
Open today 8:00 AM to 5:30 PM.
Description
We are a general practice aiming to provide quality healthcare for all patients, with an emphasis on health education and preventative medicine. We offer free care for accident treatment.
Patients are seen on a walk-in basis as they arrive at the clinic - no appointments are necessary.
Minor surgery can be performed by the doctors in the well equipped clinic.
To know more about other ETHC centre locations and the services provided, please visit the ETHC website.
Get the recent updates at ETHC news
Staff who speak the languages listed below sometimes rotate between clinics - please call the clinic number listed above to confirm staff availability.
General Practitioners
General Practitioner - Vocationally Registered

General Practitioner

General Practitioner - Vocationally Registered
Hours
Open today 8:00 AM to 5:30 PM.
| | |
| --- | --- |
| Mon – Fri | 8:00 AM – 5:30 PM |
| Sat | 8:30 AM – 1:00 PM |
After Hours Accident and Medical Centre Mon-Sun: 8.00am-11.00pm 160 Bairds Road Otara Ph:(09) 274 3414
Books
Open
This practice is taking on new patients.
Languages Spoken
English, Gujarati, Hindi, Marathi, Punjabi, Tongan, Urdu
Fees
Enrolled Patient Fees
| | |
| --- | --- |
| Under 13 yrs | Free |
| 13-17 yrs | Free |
| 18-24 yrs | $15 |
| 25-44 yrs | $15 |
| 45-64 yrs | $15 |
| 65+ yrs | $10 |
No charge for ACC injuries - if your injury is a result of an accident eg: cut or scratch, insect bite, sprain or strain etc you will see the doctor for free.
Immigration medical: $370 (11 years old+) and $75 (under 11 years old). Please bring immigration forms and three passport sized photographs per person.
Casual: Free (under 6s) - $60
Visitor: $30 - $65
After hours/weekend/stat holiday surcharges may apply
Services
Minor Accident Care
Primary care practices offer a range of services and are able to deal with most minor accident care. If they are not able to deal with an injury they will…
Minor Surgery
Minor surgery is commonly provided in primary care practices, providing fast, competent removal and biopsies of skin lesions. Other services include cosmetic work such as removal of benign moles and…
Repeat Prescriptions
Each GP surgery or primary care practice will have its own procedure for repeat prescribing but the following rules are common to most, if not all. Patients who are well-known…
Lab Results
Sometimes your doctor needs to take a sample of blood or urine either to discover what is wrong with you or to measure something in your blood so that the…
Vasectomy
If a man decides he does not want to father children, he may choose to have a vasectomy which is a simple and effective method of sterilisation.
During this surgical…
Liquid Nitrogen
Liquid nitrogen is a fast, effective treatment provided in many practices to treat viral warts, sun damaged skin, skin tags and many benign cosmetic lesions. It comes in a container…
IUCD Insertion
An Intrauterine Contraceptive Device (IUCD) is inserted into a woman's uterus to prevent pregnancy. Depending on the type of device, it will need to be changed after between three and…
Adult and Child Medical Care
Your GP's surgery is far more than a place to go when you are feeling unwell and needing a quick cure. The doctor who sees you has gone through an…
Immunisations
Immunisations are provided at all primary care practices and are one of the most important services they provide. Immunisation has led to the decline of many lethal diseases including meningococcal…
Cervical Smears
All women who have ever been sexually active should have regular cervical smear tests every three years between the ages of 20 and 70. This includes women who have been…
ECG
An ECG is a recording of your heart's electrical activity. Electrode patches are attached to your skin to measure the electrical impulses given off by your heart. The result is…
Travel Advice / Immunisations
Another service offered to you at your GP surgery (primary care practice) is advice and immunisation before you go to another country. While you are likely to have the immunisations…
Well Child/Tamariki Ora Health Checks – Birth to Three Years
All New Zealand children are entitled to 11 free health checks from birth to three years. The checks aim to ensure that children are growing and developing as well as…
Website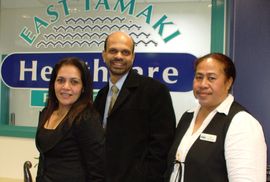 Contact Details
Phone

(09) 573 1265

Fax

(09) 579 6417

Website
After Hours (09) 274 7823
Website - www.ethc.co.nz
Street Address
Level 1, Shop N215
Sylvia Park
286 Mt Wellington Highway
Mt Wellington
Auckland
Postal Address
PO Box 61150
Otara
Auckland 2159
This page was last updated at 1:30PM on March 5, 2018. This information is reviewed and edited by East Tamaki Healthcare (ETHC) - Sylvia Park.