Description
We are a general practice, aiming to provide quality healthcare to you and your family.
We are community owned by the Helensville District Health Trust, our doctors and the Waitemata DHB.
Consultations are by appointment only. Our standard consultation time is 15 minutes.
We are a normal General Practice and NOT AN ACCIDENT SPECIALIST.
However, because of the distance to North Shore and Waitakere hospitals, we can provide first aid services, during normal opening hours.
It is still important to telephone us before you arrive, if possible. This allows us to prepare to accept you and fit you into our normal appointments.

Staff
Our team is made up of six GPs and a Registrar (see details below under "General Practitioners") and:
Nursing Staff: Christine, Sarah J, Barbara, Marina, Lily, Georgia, and Anna.
Primary Care Practice Assistant: Amanda-Jane.
Receptionists: Vivienne, Avalon, Angela, Hazel, Rhonda and Sheena
Hours
8:30 AM to 7:30 PM.
| | |
| --- | --- |
| Mon | 8:30 AM – 5:30 PM |
| Tue | 8:30 AM – 5:00 PM |
| Wed | 8:30 AM – 7:30 PM |
| Thu – Fri | 8:30 AM – 5:00 PM |
| Sat | 8:30 AM – 12:00 PM |
Note: Saturday Clinic - patient to phone for appointment
The doctors are on duty at the Medical Centre as follows:
Dr Phillip Barter
8:30am - 12:00pm Monday
9:00am - 5:00pm, Tuesday & Thursday
Dr Aimee England
8:30am - 12:00pm Monday, Tuesday, Wednesday & Thursday
Dr Dean Foster
8:30am - 5pm Tuesday to Friday
Dr Trinh Wright
8:30am – 3:45pm Wednesday, Thursday and Friday
Dr Rachel Mackie
8:30am - 5pm Monday & Wednesday
8:30am - 12:45pm Friday
Dr Katherine Elcock
8:30am - 5pm Monday, Tuesday & Friday
Dr Kit Boyes
8:30am – 5pm Monday
*A registrar doctor works at the Medical Centre 8:30am - 5pm Monday, Tuesday, Thursday and Friday.
A registrar doctor is fully qualified, sometimes with years of experience in a hospital. The 5-month long placement with the Medical Centre is to enable the doctor to experience the varied cases that are part of rural practice. The registrar is supervised and mentored by the senior staff. The placement forms part of their ongoing education so that at the end of a year they will be ready to sit the exams for the first part of the specialist GP qualification.
When visiting the Centre, you may be asked if you would mind being seen by the registrar. He or she will have full access to your medical notes on the computer and will always refer to your own GP or senior staff member, if necessary. You will never be pressured into seeing them, if you would prefer to visit your usual Doctor.
AFTER HOURS: If you phone the surgery after hours (after 5pm or at the weekend), the surgery may be closed but your call will be diverted to a triage nurse, who will then contact the duty doctor if required. Note: This doctor may be at Helensville, Waimauku, Huapai or Kumeu and may not have full access to your records. The triage nurse cannot answer questions from your records or make appointments. Please telephone in normal working hours. Also ask about Manage My Health, our secure online portal that allows you to communicate with the practice after hours.
Public Holidays: Closed on all public holidays.
Preferred urgent care clinic out of hours: Westgate Medical Centre.
Books
Closed
This practice is at full capacity and unable to enrol new patients for long term care.
Languages Spoken
English, Language Line - Telephone Interpreting Service
Fees
Enrolled Patient Fees
| | |
| --- | --- |
| Under 14 years | Free |
| 14-17 years | $12.50 |
| 18-24 years | $18.50 |
| 25-44 years | $18.50 |
| 45-64 years | $18.50 |
| 65+ years | $18.50 |
All rates from 1st July 2018
Non-Enrolled Patient Fees
| | |
| --- | --- |
| Under 13 yrs | Free |
| 13-17 yrs with Community Services Card | $39 |
| 6-17 yrs | $42 |
| Adult with Community Services Card | $67 |
| Adult | $85 |
| Non residents (visitors - all ages) | $97 |
* ACC surcharge $18.50 ($12.50 for 13 to 17).
Non-Registered / non funded (i.e. casual) patients: ACC Surcharge: $32.
ALL under 13 children are FREE.

* Extra charges apply for appointments after 5pm weekdays, on weekends, also for minor surgery, home visits and after-hours consultations.

* ALL Fees are to be paid at the time of consultation please.
Unpaid accounts will attract a $5 administration fee at the end of the month.
Some Other Fees for enrolled patients (Casual patients will be higher)
| | |
| --- | --- |
| Administration of injections | $18.50 |
| Asthma education / checks | $18.50 |
| Blood pressure | $6 |
| Blood pressure with script | $14 |
| Cervical smear | $25.50 |
| Contraceptive injection | $18.50 |
| Diabetes check | $18.50 |
| Dressings + consult fee | From $10 |
| Ear syringe (both) | $32 |
| ECG | $26 |
| Family planning advice | From $10.50 |
| Pregnancy test | From $6 |
| Liquid nitrogen | From $18.50 |
| Nutrition advice - first consultation | $21 |
| Fire/LSV etc medicals | $62 |
| Medical for driver's licence under 65 | $62 |
| Medical for driver's licence 65+ | $41 |
| Immigration Medicals: we are now unable to do these. Please contact Westgate Medical Centre. | |
Services
Adult and Child Medical Care
Your GP's surgery is far more than a place to go when you are feeling unwell and needing a quick cure. The doctor who sees you has gone through an…
Minor Accident Care
Primary care practices offer a range of services and are able to deal with most minor accident care. If they are not able to deal with an injury they will…
Minor Surgery
Minor surgery is commonly provided in primary care practices, providing fast, competent removal and biopsies of skin lesions. Other services include cosmetic work such as removal of benign moles and…
Repeat Prescriptions
Each GP surgery or primary care practice will have its own procedure for repeat prescribing but the following rules are common to most, if not all. Patients who are well-known…
Lab Results
Sometimes your doctor needs to take a sample of blood or urine either to discover what is wrong with you or to measure something in your blood so that the…
Liquid Nitrogen
Liquid nitrogen is a fast, effective treatment provided in many practices to treat viral warts, sun damaged skin, skin tags and many benign cosmetic lesions. It comes in a container…
IUCD Insertion
An Intrauterine Contraceptive Device (IUCD) is inserted into a woman's uterus to prevent pregnancy. Depending on the type of device, it will need to be changed after between three and…
Immunisation
Immunisations are provided at all primary care practices and are one of the most important services they provide. Immunisation has led to the decline of many lethal diseases including meningococcal…
Cervical Screening
All women who have ever been sexually active should have regular cervical smear tests every three years between the ages of 20 and 70. This includes women who have been…
ECG
An ECG is a recording of your heart's electrical activity. Electrode patches are attached to your skin to measure the electrical impulses given off by your heart. The result is…
Spirometry
Spirometry is a tool that measures how effectively your lungs are working. It is able to show how much air lungs are able to hold (their volume) and how much…
Travel Advice / Immunisations
Another service offered to you at your GP surgery (primary care practice) is advice and immunisation before you go to another country. While you are likely to have the immunisations…
Well Child/Tamariki Ora Health Checks – Birth to Three Years
All New Zealand children are entitled to 11 free health checks from birth to three years. The checks aim to ensure that children are growing and developing as well as…
Website
Online Booking URL
Please register for Manage My Health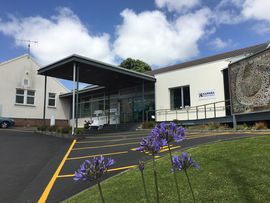 Contact Details
Would you recommend this service to family & friends?
This page was last updated at 9:56AM on December 17, 2018. This information is reviewed and edited by Kaipara Medical Centre.