Description
Welcome to Kawakawa Bay Orere Health Clinic.
We are a predominantly rural based, nurse led clinic. This facility is for the use of our local community. It is run by a voluntary committee who spend a great deal of time fundraising and organising the best equipment and service they can.
We need your support to be able to keep up the standard we have for the clinic.
Subscriptions are $50 per family per year and $25 for a single person. This subscription entitles you to discounted or free nurse visits. It helps maintain and continue to provide a high standard of healthcare in our community. You may not have used the clinic before but it is always there when the need arises so PLEASE SUBSCRIBE NOW! and know that you can call on the clinic in any situation.
The clinic is staffed by local registered nurses working part-time. The Clinic Committee also oversees the First Response Team and supplies them with all their equipment.
A beautician and massage therapist is available by appointment. Please phone Irene at 2922982 or 0221536009 or irene@hancockshome.com
Some of the things we offer:
Blood tests
Dressings - ACC & non ACC
Immunisations
BP tests
Advice
Education sessions
First Response
Weight control
Walking group
Staff

Our team is made up of one GP (see details below under "General Practitioners") and:
Nurse Manager: Lynnette Cashmore
Nurses: Alexandra King-Deery, Alison Searle and Diane Roberts
The nurses are registered ACC Providers & Authorised Independent Vaccinators. They all maintain a high level of Professional Development and training.
General Practitioners
General Practitioner - Vocationally Registered
Hours
| | |
| --- | --- |
| Mon | 9:00 AM – 12:00 PM |
| Tue | 4:30 PM – 6:30 PM |
| Wed | 9:00 AM – 12:00 PM |
| Fri | 9:00 AM – 12:00 PM |
There is no out of hours assistance at the practice. You can leave a message on the answer phone which will be attended to the following clinic session. You could also call Healthline 24hrs on 0800 611 116 to speak to a registered nurse for advice.
For emergencies please call 111 ambulance. If available the Kawakawa Bay First Response Team will respond ahead of St Johns Ambulance.
The Thursday clinic is held at the Orere Point Clinic between 0900 and 1200 hrs.
Books
Open
This practice is taking on new patients.
Fees
Patient Fees - NURSES


Members
Non-Members
Nurse Visit
Free
$15.00
Dressings ACC
$11.00
$15.00
Dressings non ACC
$15.00
$20.00
Injections
$11.00
$20.00
Ear Syringe
$15.00
$20.00
ECG
$35.00
$50.00
Flu Vaccine (unsubsidised)
$25.00
$25.00
Childhood Imms
Free
Free
Blood Tests
Free
Free
Flu Vaccine subsidised
Free
Free
Annual subscription fee of $50 per family or $25 per individual.
Different charges apply to casual and non-subscribing patients and for other services.
Services
Adult and Child Medical Care
Your GP's surgery is far more than a place to go when you are feeling unwell and needing a quick cure. The doctor who sees you has gone through an…
Minor Accident Care
Primary care practices offer a range of services and are able to deal with most minor accident care. If they are not able to deal with an injury they will…
Repeat Prescriptions
Each GP surgery or primary care practice will have its own procedure for repeat prescribing but the following rules are common to most, if not all. Patients who are well-known…
Lab Results
Sometimes your doctor needs to take a sample of blood or urine either to discover what is wrong with you or to measure something in your blood so that the…
Immunisations
Immunisations are provided at all primary care practices and are one of the most important services they provide. Immunisation has led to the decline of many lethal diseases including meningococcal…
Cervical Smears
All women who have ever been sexually active should have regular cervical smear tests every three years between the ages of 20 and 70. This includes women who have been…
ECG
An ECG is a recording of your heart's electrical activity. Electrode patches are attached to your skin to measure the electrical impulses given off by your heart. The result is…
Spirometry
Spirometry is a tool that measures how effectively your lungs are working. It is able to show how much air lungs are able to hold (their volume) and how much…
Travel Advice / Immunisations
Another service offered to you at your GP surgery (primary care practice) is advice and immunisation before you go to another country. While you are likely to have the immunisations…
Well Child/Tamariki Ora Health Checks – Birth to Three Years
All New Zealand children are entitled to 11 free health checks from birth to three years. The checks aim to ensure that children are growing and developing as well as…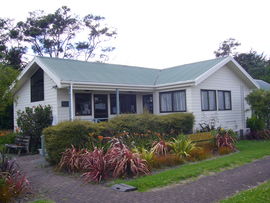 Contact Details
Phone

(09) 292 2812

Fax

(09) 292 2816

Healthlink EDI

kawakbay

Email
We are located opposite the garage on Kawakawa-Orere Road. The clinic is adjoining the library.
Street Address
25 Kawakawa-Orere Road
Kawakawa Bay
Papakura 2585
Postal Address
Private Bag 12
Papakura 2138
This page was last updated at 10:05AM on July 31, 2017. This information is reviewed and edited by Kawakawa Bay Orere Health Clinic Inc.