Description
Kingsland Family Health Centre is located 2 shops up New North Rd from Kingsland Pharmacy. We have a small parking area down our drive at the back.
We are a family friendly local general practice. We have been in the Kingsland and Grey Lynn area for more than 30 years.
Individuals and families are welcome to enrol at our practice.
Pregnancy care: we can see women for pregnancy tests, urgent and early pregnancy care and referral to midwives for ongoing care.
On 31 March 2017 Doctors Richard and Fiona Watt retired after more than 30 years with Kingsland Family Health. Dr Jacqui Rosby has taken over their practice.
We have two very experienced doctors, Jacqui Rosby and Graham Gulbransen. Graham has been here since 2000. Dr Angela Konings will be joining us on 6/6/17. Angela owned her own practice on the North Shore for 20 years and did a lot of obstetrics and deliveries. She is currently a Shorecare A & M doctor and experienced in minor surgery.
Our Practice Nurses, Janet, Heather and Kathy will take your call when you phone and assist you at the reception desk. Their nursing duties include vaccinations, wound dressings, arranging reminders for various health checks, treating warts with liquid nitrogen, syringing ears and providing good health advice. Kerry and Brenda are our part time Receptionists.
Dr Graham Gulbransen is qualified in General Practice and Addiction Medicine. He assesses and treats those with alcohol and drug problems, as well as being a family GP. GRAHAM MAY STILL BE TAKING NEW PATIENTS IF/WHEN PRACTICE BOOKS ARE CLOSED, please contact reception who will ask Graham on a case by case basis.
All doctors and nurses attend continuing education sessions in order to provide up-to-date professional care.
General Practitioners
General Practitioner - Vocationally Registered

General Practitioner - Vocationally Registered

General Practitioner - Vocationally Registered
Hours
| | |
| --- | --- |
| Mon – Fri | 8:00 AM – 5:30 PM |
When we are closed please phone our usual number, (09) 815 1475 and you will be connected with a nurse who will advise you.
Books
Open
This practice is taking on new patients.
Fees
Enrolled Patient Fees
| | |
| --- | --- |
| Under 13 yrs | FREE |
| 13-17 yrs | $30 - $35 |
| 18-24 yrs | $50 |
| 25-44 yrs | $50 |
| 45-64 yrs | $50 |
| 65+ yrs | $50 |
First visits to Kingsland Family Health are usually "not funded", i.e. there is no government subsidy. In this case the standard adult fee will be $50-$75 depending on complexity, or $60 with a Community Services Card (CSC). The 'un-funded' fee for children over 6 is $30-$45 or $30-$35 with a CSC.
ALL CHILDREN under 13 are FREE.
Accident fees are usually $30.
Longer visits or materials, such as bandages usually cost more.
Services
Adult and Child Medical Care
Your GP's surgery is far more than a place to go when you are feeling unwell and needing a quick cure. The doctor who sees you has gone through an…
Minor Accident Care
Primary care practices offer a range of services and are able to deal with most minor accident care. If they are not able to deal with an injury they will…
Minor Surgery
Minor surgery is commonly provided in primary care practices, providing fast, competent removal and biopsies of skin lesions. Other services include cosmetic work such as removal of benign moles and…
Repeat Prescriptions
Each GP surgery or primary care practice will have its own procedure for repeat prescribing but the following rules are common to most, if not all. Patients who are well-known…
Lab Results
Sometimes your doctor needs to take a sample of blood or urine either to discover what is wrong with you or to measure something in your blood so that the…
Liquid Nitrogen
Liquid nitrogen is a fast, effective treatment provided in many practices to treat viral warts, sun damaged skin, skin tags and many benign cosmetic lesions. It comes in a container…
IUCD Insertion
An Intrauterine Contraceptive Device (IUCD) is inserted into a woman's uterus to prevent pregnancy. Depending on the type of device, it will need to be changed after between three and…
Immunisations
Immunisations are provided at all primary care practices and are one of the most important services they provide. Immunisation has led to the decline of many lethal diseases including meningococcal…
Cervical Smears
All women who have ever been sexually active should have regular cervical smear tests every three years between the ages of 20 and 70. This includes women who have been…
Travel Advice / Immunisations
Another service offered to you at your GP surgery (primary care practice) is advice and immunisation before you go to another country. While you are likely to have the immunisations…
Well Child/Tamariki Ora Health Checks – Birth to Three Years
All New Zealand children are entitled to 11 free health checks from birth to three years. The checks aim to ensure that children are growing and developing as well as…
Patient Portal
A patient portal is a secure online tool provided by GP practices that can allow convenient access to your health information as well as interaction with the practice e.g. booking…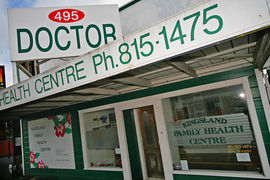 Contact Details
Phone

(09) 815 1475

Fax

(09) 846 7195

Healthlink EDI

kingslhc
Please phone to get our quickest response.
We may not respond to emails every day.
Health365 is a patient portal that allows patients to make appointments, see lab results with links to useful information, see clinical notes etc online through the internet. Patients can use the service to access their files 24/7. Please ask if you would like to sign up. There is a one off sign up fee of $10.00.
Street Address
495 New North Rd
Kingsland
Auckland 1021
Postal Address
495 New North Rd
Kingsland
Auckland 1021
This page was last updated at 2:56PM on June 15, 2017. This information is reviewed and edited by Kingsland Family Health Centre.