Description
We are a general practice aiming to provide quality healthcare to you and your family.
Consultations are by appointment only. Our standard consultation time is 15 minutes.
Staff

Our team is made up of two GPs (see details below under "General Practitioners") and:

Practice Manager: Christine Jones
Receptionist: Pauline/Carolyn
General Practitioners
General Practitioner - Vocationally Registered

General Practitioner - Vocationally Registered
Hours
| | |
| --- | --- |
| Mon – Fri | 9:00 AM – 12:15 PM |
Closed School Holidays.
LABORATORY service will be available 8-10am daily during this time except for Statutory Holidays and Weekends.

You can now book online - follow this link ConnectMed
Please note Maraetai surgery will be closed for GP consults until further notice. Please contact Beachlands Medical if you require any assistance.
The Laboratory service will still be available 8-10am daily during this time except for Statutory Holidays and Weekends.
WE ARE ON THE MOVE - we will be moving to our new address on 14th August 2017
129A Beachlands Road, Beachlands. (Next to Countdown)
All telephone numbers and emails will remain the same.
PLEASE NOTE THE CLINIC WILL BE CLOSED 11th and 12th AUGUST WHILE WE MOVE AND WILL RE-OPEN 14th AUGUST.
Fees
Enrolled Patient Fees
| | |
| --- | --- |
| Under 13 yrs | Free |
| 13-17 yrs | $30 |
| 18-24 yrs | $42 |
| 25-44 yrs | $42 |
| 45-64 yrs | $42 |
| 65+ yrs | $40 |
Different charges apply to casual and non-enrolled patients and for other services.
Fees as at 01/02/2017
Services
Adult and Child Medical Care
Your GP's surgery is far more than a place to go when you are feeling unwell and needing a quick cure. The doctor who sees you has gone through an…
Minor Accident Care
Primary care practices offer a range of services and are able to deal with most minor accident care. If they are not able to deal with an injury they will…
Minor Surgery
Minor surgery is commonly provided in primary care practices, providing fast, competent removal and biopsies of skin lesions. Other services include cosmetic work such as removal of benign moles and…
Repeat Prescriptions
Each GP surgery or primary care practice will have its own procedure for repeat prescribing but the following rules are common to most, if not all. Patients who are well-known…
Lab Results
Sometimes your doctor needs to take a sample of blood or urine either to discover what is wrong with you or to measure something in your blood so that the…
Vasectomy
If a man decides he does not want to father children, he may choose to have a vasectomy which is a simple and effective method of sterilisation.
During this surgical…
Liquid Nitrogen
Liquid nitrogen is a fast, effective treatment provided in many practices to treat viral warts, sun damaged skin, skin tags and many benign cosmetic lesions. It comes in a container…
Immunisations
Immunisations are provided at all primary care practices and are one of the most important services they provide. Immunisation has led to the decline of many lethal diseases including meningococcal…
Cervical Smears
All women who have ever been sexually active should have regular cervical smear tests every three years between the ages of 20 and 70. This includes women who have been…
ECG
An ECG is a recording of your heart's electrical activity. Electrode patches are attached to your skin to measure the electrical impulses given off by your heart. The result is…
Spirometry
Spirometry is a tool that measures how effectively your lungs are working. It is able to show how much air lungs are able to hold (their volume) and how much…
Travel Advice / Immunisations
Another service offered to you at your GP surgery (primary care practice) is advice and immunisation before you go to another country. While you are likely to have the immunisations…
Well Child/Tamariki Ora Health Checks – Birth to Three Years
All New Zealand children are entitled to 11 free health checks from birth to three years. The checks aim to ensure that children are growing and developing as well as…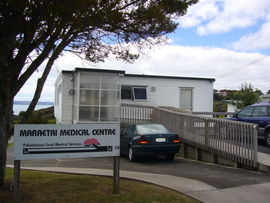 Contact Details
Phone

(09) 536 5292

Fax

(09) 536 5299
Healthlink EDI: bchlndmc
Street Address
10 Maraetai School Road
Maraetai
Auckland 2018
Postal Address
44 Wakelin Road
Beachlands
Auckland 2018
This page was last updated at 10:51AM on July 10, 2017. This information is reviewed and edited by Maraetai Medical Centre.