Description
Meadowbank Medical Centre was started in 28th August 1982 by Dr Wellington Tan. By 1990, the practice has grown to full capacity. Dr Tan developed a holistic approach and added a special interest in Acupuncture and Muscular Skeletal and Manual Medicine to the general practice.
In 1992 Dr Yam from Hong Kong joined the practice as an associate to built up his practice in the growing Asian population. Dr Angie Young joined the practice as a locum to serve the needs of women's health with the high Asian population in the practice.
From 2000 Dr Doo became involved in doing locums for Dr Tan on a frequent basis. Last November, after 35 years of working, Dr Tan decided to step down as the principle doctor to spend more time with his ill and elderly mother in Singapore. Dr Doo is now the principal doctor. Dr Tan returns intermittently to do locums and sessions in acupuncture.
From its inception the centre has had a Practice Nurse/Manager that has made the practice run efficiently, smoothly and ensures a great service to the patients. Receptionist Div has been with the practice since 1999.
If you are making your first appointment for a musculo-skeletal and acupuncture treatment please book a one hour appointment.
Hours
| | |
| --- | --- |
| Mon – Fri | 9:00 AM – 5:30 PM |
Lunch break weekdays 12.45pm to 1.45 pm.
Saturday morning Dr Yam by appointment only.
Books
Closed
This practice is at full capacity and unable to enrol new patients for long term care.
Languages Spoken
Cantonese, English, Malay, Mandarin
Fees
Enrolled Patient Fees
| | |
| --- | --- |
| Under 13 yrs | Free - $35* |
| 13-17 yrs | Free - $35* |
| 18-24 yrs | $35 |
| 25-44 yrs | $38 |
| 45-64 | $38 |
| 65+ yrs | $36 |
* Under 0-17yrs yrs: Free for registered patient
$35 for non-registered or enrolled patient
Services
Adult and Child Medical Care
Your GP's surgery is far more than a place to go when you are feeling unwell and needing a quick cure. The doctor who sees you has gone through an…
Minor Accident Care
Primary care practices offer a range of services and are able to deal with most minor accident care. If they are not able to deal with an injury they will…
Minor Surgery
Minor surgery is commonly provided in primary care practices, providing fast, competent removal and biopsies of skin lesions. Other services include cosmetic work such as removal of benign moles and…
Repeat Prescriptions
Each GP surgery or primary care practice will have its own procedure for repeat prescribing but the following rules are common to most, if not all. Patients who are well-known…
Lab Results
Sometimes your doctor needs to take a sample of blood or urine either to discover what is wrong with you or to measure something in your blood so that the…
Liquid Nitrogen
Liquid nitrogen is a fast, effective treatment provided in many practices to treat viral warts, sun damaged skin, skin tags and many benign cosmetic lesions. It comes in a container…
Immunisations
Immunisations are provided at all primary care practices and are one of the most important services they provide. Immunisation has led to the decline of many lethal diseases including meningococcal…
Cervical Smears
All women who have ever been sexually active should have regular cervical smear tests every three years between the ages of 20 and 70. This includes women who have been…
ECG
An ECG is a recording of your heart's electrical activity. Electrode patches are attached to your skin to measure the electrical impulses given off by your heart. The result is…
Spirometry
Spirometry is a tool that measures how effectively your lungs are working. It is able to show how much air lungs are able to hold (their volume) and how much…
Travel Advice / Immunisations
Another service offered to you at your GP surgery (primary care practice) is advice and immunisation before you go to another country. While you are likely to have the immunisations…
Well Child/Tamariki Ora Health Checks – Birth to Three Years
All New Zealand children are entitled to 11 free health checks from birth to three years. The checks aim to ensure that children are growing and developing as well as…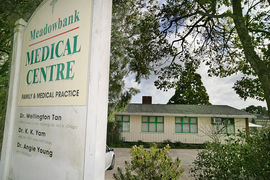 Contact Details
Phone

(09) 528 4242

Fax

(09) 528 0023

Healthlink EDI

meadmcmb
Street Address
2 Blackett Crescent
Meadowbank
Auckland 1072
Postal Address
2 Blackett Crescent
Meadowbank
Auckland 1072
This page was last updated at 8:14PM on August 6, 2018. This information is reviewed and edited by Meadowbank Medical Centre.