Description
Mt Eden 575 Doctors is a friendly general practice dedicated to providing high quality medical care to you and your family. We aim to provide the highest standards of professional healthcare to children and adults of all ages in a warm and welcoming atmosphere. We have wheelchair/stroller access via a ramp, from the rear of the building.
Book Appointment Online
Online bookings are for 15 minute appointments for registered patients. Please book with your own doctor. If an appointment is not available on the day and you feel you need to be seen, please call reception.
For a repeat prescription please click here.
NEW PATIENTS ARE WELCOME
NO CHARGE FOR UNDER 13 YEAR OLDS
Hours
| | |
| --- | --- |
| Mon – Fri | 8:00 AM – 5:30 PM |
Our Doctors Consulting Hours:
| | |
| --- | --- |
| Dr Jodie O'Sullivan | All day Mondays, Tuesday mornings, All day Thursdays, Friday mornings |
| Dr Mimi Irwin | Monday mornings, Tuesday mornings, Wednesday afternoons, Thursday afternoons |
| Dr Sue Kirk | All day Monday and Wednesdays, Thursday mornings, Friday afternoons |
| Dr Bridget Rutherford | Monday afternoons, Tuesday afternoons, Wednesday mornings, Thursday mornings |
| Dr Aileen Smith | Tuesday afternoons, Wednesday mornings, Friday mornings |
| Dr Kate Farmer | Tuesday mornings, all day Friday |
Books
Open
This practice is taking on new patients.
Fees
Enrolled Patient Fees
| | |
| --- | --- |
| Under 13 yrs | No charge |
| 13-17 yrs | $41.50 |
| 18-24 yrs | $45.00 |
| 25-44 yrs | $45.00 |
| 45-64 | $45.00 |
| 65+ yrs | $36.00 |
| Maternity consult (up to 12 weeks 6 days) | No charge |
Casual Patients
| | |
| --- | --- |
| Under 13 yrs | No Charge |
| 13 to 17 yrs | $45.00 |
| 18+ yrs | $75.00 |
The fees listed above are for a standard, 15 minute consultation. Follow-up consultations will incur the same charges.
An administration charge of $2.00 will be added when payment is not made on the day. Missed appointments may be charged a $25.00 fee if cancelled less than 2 hours before the appointment.

New patients enrolling for the first time: Our charge for this initial appointment is $75.00 for adults over 17 years and $45.00 for patients 13 to 17 years. You may see the nurse as well as the doctor to have your weight, height and blood pressure measured and to obtain a complete medical history. The fee will be the same as for enrolled patients thereafter.
Double Appointments: $75.00 plus the normal fee.
Referrals and Forms: Referral letters, completion of forms and other paperwork that needs to be completed outside of a normal consultation may incur a fee to cover the doctor's time. This will be $10.00 to $25.00 depending on the complexity and time taken.
Additional Services: Please advise us if you require a special service such as an employment or driving license medical as an additional fee may apply. Your doctor, nurse or receptionist can advise you about the cost of services such as minor surgery, biopsies, ECGs etc.
Nurse Consultations: The fee for a nurse consultation is generally $20.00, but may vary depending on the service provided. Nurse consultations may include: ear syringing, cervical smear, sexual health consultation, travel consultation, diet review, diabetes follow-up.
| | |
| --- | --- |
| Cervical Smear | $25.00 |
| Liquid Nitrogen | $10.00-$20.00 |
| Removal of sutures | $10.00 |
| Depo Provera | $15.00 |
| Blood Pressure | $10.00 |
| Emergency Contraception | $15.00 |
| Dressing Changes | $10.00-$20.00 |
Services
Adult and Child Medical Care
Your GP's surgery is far more than a place to go when you are feeling unwell and needing a quick cure. The doctor who sees you has gone through an…
Minor Accident Care
Primary care practices offer a range of services and are able to deal with most minor accident care. If they are not able to deal with an injury they will…
Lab Results
Sometimes your doctor needs to take a sample of blood or urine either to discover what is wrong with you or to measure something in your blood so that the…
Repeat Prescriptions
Each GP surgery or primary care practice will have its own procedure for repeat prescribing but the following rules are common to most, if not all. Patients who are well-known…
Immunisations
Immunisations are provided at all primary care practices and are one of the most important services they provide. Immunisation has led to the decline of many lethal diseases including meningococcal…
Liquid Nitrogen
Liquid nitrogen is a fast, effective treatment provided in many practices to treat viral warts, sun damaged skin, skin tags and many benign cosmetic lesions. It comes in a container…
Minor Surgery
Minor surgery is commonly provided in primary care practices, providing fast, competent removal and biopsies of skin lesions. Other services include cosmetic work such as removal of benign moles and…
Cervical Smears
All women who have ever been sexually active should have regular cervical smear tests every three years between the ages of 20 and 70. This includes women who have been…
IUCD Insertion
An Intrauterine Contraceptive Device (IUCD) is inserted into a woman's uterus to prevent pregnancy. Depending on the type of device, it will need to be changed after between three and…
Travel Advice / Immunisations
Another service offered to you at your GP surgery (primary care practice) is advice and immunisation before you go to another country. While you are likely to have the immunisations…
Well Child/Tamariki Ora Health Checks – Birth to Three Years
All New Zealand children are entitled to 11 free health checks from birth to three years. The checks aim to ensure that children are growing and developing as well as…
ECG
An ECG is a recording of your heart's electrical activity. Electrode patches are attached to your skin to measure the electrical impulses given off by your heart. The result is…
Website
Online Booking URL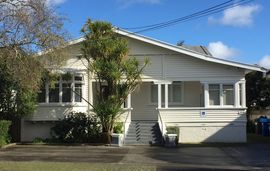 Contact Details
Phone

(09) 623 4599

Fax

(09) 623 4363

Healthlink EDI

prspcthc

Website
After hours call our practice number (09) 623 4599 and your phone call will be answered by a nurse triage system.
Book an Appointment
Street Address
575 Mt Eden Road
Mt Eden
Auckland 1024
Postal Address
575 Mt Eden Road
Mt Eden
Auckland 1024
This page was last updated at 1:54PM on April 12, 2017. This information is reviewed and edited by Mt Eden 575 Doctors.