Description
Peninsula Medical Centre is a family owned and operated general practice which has served the Te Atatu Peninsula and wider West Auckland community for over 35 years. We provide quality healthcare to you and your family. Our friendly team provide complete medical care for people of all ages – from pregnancy to care for the elderly.
Consultations are by appointment either by calling Reception or booking online through Health365 Patient Portal. We also offer a quick appointment Walk-In Clinic for acute cases during the week and on Saturday mornings.
Peninsula Medical Centre offers a comprehensive range of services in one convenient location (200m from the Te Atatu Rd interchange on the North-Western Motorway). We also have laboratory, pharmacy, physiotherapy, audiology and dentist on site.
We have a range of visiting specialists for our patients and for patients in the area.

Staff
Our team is made up of 6 GPs: Dr David Going (Principal GP), Dr Carolynn Moore, Dr Justine Mesui, Dr Richard Busfield, Dr Ang Liu, and Dr Alita Neria (See also details below under "General Practitioners"):
Nursing Staff: Joanna (Team Leader), Tyronne (Team Leader), Barbara, Trish, Tina, Alazar and Katy.
Receptionists & Admin Team: Pauline (Team Leader), Melanie, Moi, Sharon, Cathryn, and Rosie.
Accounts: Katarina O'Connor (on maternity leave), Moi Ting
Operations: Hannah Going
Practice Manager: Lesley Going
Hours
8:00 AM to 6:30 PM.
| | |
| --- | --- |
| Mon – Thu | 8:00 AM – 6:30 PM |
| Fri | 8:00 AM – 6:00 PM |
| Sat | 9:00 AM – 12:00 PM |
A full-service GP practice with Laboratory, Pharmacy, Physiotherapy, Audiology and Dentist on site.
We have a range of visiting specialists for our patients and for patients in the area.
After hours: Westcare/Whitecross, 131 Lincoln Rd, Henderson, or call our number (09) 834 6300 for after hours nurse support.
Note:
* January 2019 - usual hours is 0830 - 1730hrs
* 5th February 2019 - back on normal hours
Public Holidays: Closed on all public holidays.
Preferred urgent care clinic out of hours: White Cross Accident & Urgent Medical - Henderson 24/7.
Books
Open
This practice is taking on new patients.
Languages Spoken
Chinese, English, Mandarin, Tongan, Malay
Fees
Enrolled Patient Fees
| | |
| --- | --- |
| Under 14 years | FREE |
| 14-17 years | $32.00 (No CSC); $12.50 (With CSC) |
| 18-24 years | $44.00 (No CSC); $18.50 (With CSC) |
| 25-44 years | $44.00 (No CSC); $18.50 (With CSC) |
| 45-64 years | $44.00 (No CSC); $18.50 (With CSC) |
| 65+ years | $40.00 (No CSC); $18.50 (With CSC) |
COMMUNITY SERVICE CARD HOLDERS
We offer LOW COST Doctor visits for Community Service Card Holders (CSC) and their dependents:
Child 0-13 years = FREE
Youth 14-17 years = $12.50
Adult 18+ years = $18.50
There is an additional charge of $15.00 for New Patients for the period until we receive quarterly government funding.
Services
Adult and Child Medical Care
Your GP's surgery is far more than a place to go when you are feeling unwell and needing a quick cure. The doctor who sees you has gone through an…
Minor Accident Care
Primary care practices offer a range of services and are able to deal with most minor accident care. If they are not able to deal with an injury they will…
Minor Surgery
Minor surgery is commonly provided in primary care practices, providing fast, competent removal and biopsies of skin lesions. Other services include cosmetic work such as removal of benign moles and…
Repeat Prescriptions
Each GP surgery or primary care practice will have its own procedure for repeat prescribing but the following rules are common to most, if not all. Patients who are well-known…
Lab Results
Sometimes your doctor needs to take a sample of blood or urine either to discover what is wrong with you or to measure something in your blood so that the…
Liquid Nitrogen
Liquid nitrogen is a fast, effective treatment provided in many practices to treat viral warts, sun damaged skin, skin tags and many benign cosmetic lesions. It comes in a container…
Immunisation
Immunisations are provided at all primary care practices and are one of the most important services they provide. Immunisation has led to the decline of many lethal diseases including meningococcal…
Cervical Screening
All women who have ever been sexually active should have regular cervical smear tests every three years between the ages of 20 and 70. This includes women who have been…
ECG
An ECG is a recording of your heart's electrical activity. Electrode patches are attached to your skin to measure the electrical impulses given off by your heart. The result is…
Spirometry
Spirometry is a tool that measures how effectively your lungs are working. It is able to show how much air lungs are able to hold (their volume) and how much…
Travel Advice / Immunisations
Another service offered to you at your GP surgery (primary care practice) is advice and immunisation before you go to another country. While you are likely to have the immunisations…
Well Child/Tamariki Ora Health Checks – Birth to Three Years
All New Zealand children are entitled to 11 free health checks from birth to three years. The checks aim to ensure that children are growing and developing as well as…
IUCD Insertion
An Intrauterine Contraceptive Device (IUCD) is inserted into a woman's uterus to prevent pregnancy. Depending on the type of device, it will need to be changed after between three and…
Patient Portal
A patient portal is a secure online tool provided by GP practices that can allow convenient access to your health information as well as interaction with the practice e.g. booking…
Website
Online Booking URL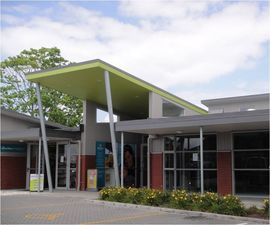 Contact Details
Phone

(09) 834 6300

Fax

(09) 834 6375

Healthlink EDI

peninsmc

Website
Website www.peninsulamed.co.nz
Patient Portal www.health365.co.nz
Book an Appointment
Street Address
382 Te Atatu Road
Te Atatu Peninsula
Auckland 0610
Postal Address
382 Te Atatu Road
Te Atatu Peninsula
Auckland 0610
Would you recommend this service to family & friends?
This page was last updated at 11:36AM on February 27, 2019. This information is reviewed and edited by Peninsula Medical Centre (Te Atatu Peninsula, Auckland).