Description
A General Medical Practice, whose focus is looking after residents in our local hospitals and care homes.
Our premises are located in the Viaduct Harbour.
General Practitioners
General Practitioner - Vocationally Registered
Hours
There is now a network of 11 after hours Accident and Medical Clinics across Auckland who can provide urgent care until 10pm. Four of these clinics are open all night.
For after hours please contact the nearest White Cross Clinic 0800 611 111
Books
Closed
This practice is at full capacity and unable to enrol new patients for long term care.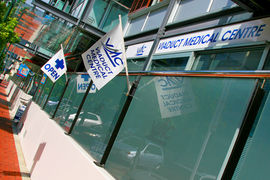 Contact Details
Phone

(09) 307 1122

Fax

(09) 307 1126

Healthlink EDI

viaductm
Street Address
125 Customs Street West
Auckland 1010
Postal Address
125 Customs Street West
Auckland 1010
Would you recommend this service to family & friends?
This page was last updated at 3:46PM on April 30, 2019. This information is reviewed and edited by Viaduct Medical Centre.