Alcohol Drug Helpline
Mental Health & Addictions Service
Programmes
Helpline 0800 787 797
Programme Areas

Addictions - drug & alcohol, Self help/ helpline

Programme Type

Helpline / self-help – addictions (AOD)

Regions

All of New Zealand

Age Groups

Older Adult, Adult, Child, Youth

Referral Types

Self referral
Description
A confidential, free phone, text, and live chat service for people with questions about their own or someone else's drinking or drug use. Trained counsellors provide information, brief intervention and referral services, nationwide.
Available free 24/7 by calling 0800 787 797 or texting 8681.
Alcohol and Drug Helpline is part of the National Telehealth Service.
Hours
24 hours a day, 7 days a week
Website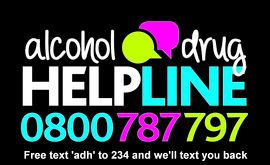 Contact Details
This page was last updated at 11:51AM on September 6, 2017. This information is reviewed and edited by Alcohol Drug Helpline.