Description
Poutiri Charitable Trust was established in 1997 to contract and develop Maori Health Providers within the Bay of Plenty region to deliver on a variety of health and wellbeing services.
See below for the Mental Health & Addictions Services provided under Poutangata. Poutiri Charitable Trust also delivers community nursing services through our Pouwhenua service and general health and wellbeing services with our Whanau Ora service.
Programmes
Fees
This service is free to eligible clients. You must be a NZ citizen or resident to access these services.
Website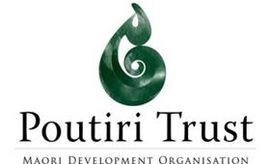 Contact Details
Phone

(07) 573 0091

Fax

(07) 573 0092

Mobile

027 268 0516

Website
Street Address
35 Commerce Lane
rear of 74 Jellicoe Street
Te Puke
Bay Of Plenty 3119
Postal Address
This page was last updated at 3:58PM on November 19, 2018. This information is reviewed and edited by Poutiri Trust - Poutangata (Mental Health & Addiction Services).