3 Kings Plaza Pharmacy
Pharmacy Service
Other Pharmacy Services
Blister packs
This pharmacy can provide you with individually made blister packs of your medicines. These can be supplied weekly, fortnightly, or monthly depending on your needs. This type of packaging can help you to take your medicine at the right time. It can also make it easier to see if you have missed a dose or are running out. Blistering is useful if you are travelling as it avoids having to take multiple containers. Liquids are not able to be blister packed.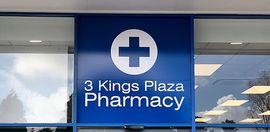 Contact Details
Phone

(09) 625 3838

Fax

(09) 625 1998

Website
Street Address
536 Mount Albert Road
Three Kings
Auckland 1042
Postal Address
536 Mt Albert Rd
Three Kings
Auckland 1042
This page was last updated at 9:17AM on March 19, 2019. This information is reviewed and edited by 3 Kings Plaza Pharmacy.