Pharmacy 72
Pharmacy Service
Description
Pharmacists can help to support the health of your family; they can provide advice and treatment for common minor illnesses for all ages.
Pharmacists ensure that prescriptions are dispensed correctly and that the medicine and dose is appropriate for you, so that you receive the maximum benefits from your medicines. Your pharmacist will help you understand what your medicines are prescribed for, how to take them, possible side effects and how to store them.
All advice and treatment is conducted in a professional and confidential manner and most services are provided free of charge and do not generally require an appointment.
For safe disposal, please return any expired or unwanted medicines, or needles/lancets and syringes to your pharmacy. There is no charge for this service.
Please don't hesitate to contact us directly if you have any questions.
Hours
8:30 AM to 5:45 PM.
| | |
| --- | --- |
| Mon – Fri | 8:30 AM – 5:45 PM |
| Sat | 9:00 AM – 12:30 PM |
Closed for Christmas (25th, 26th, 27th, Dec 2016)
Closed for New Year's (1st, 2nd, 3rd, Jan 2017)
Thank you for your understanding.
Dispensing Services
Long-term conditions (LTC) service
This service is designed for people with long-term illnesses who may need support with their medicines. An assessment is used to identify the things that affect their ability to take…
Methadone dispensing
This pharmacy works alongside the DHB methadone programme. Pharmacy staff can administer methadone on a daily, or a takeaway basis, depending on what has been agreed.
Smoking cessation
Pharmacy staff are trained to provide a service to help people to stop smoking. This service includes advice and providing quit smoking support aides e.g. nicotine gum.
Viekira Dispensing
Suboxone Dispensing
Clozapine dispensing
It is very important that you receive regular blood tests while you are taking clozapine. We will check your blood tests to make sure the appropriate dose of clozapine is…
E liquid for vaping - natural and organic
Other Pharmacy Services
Blister packs
This pharmacy can provide you with individually made blister packs of your medicines. These can be supplied weekly, fortnightly, or monthly depending on your needs. This type of packaging can…
Emergency contraceptive pill (ECP)
Your pharmacists are trained to assess whether the ECP is appropriate for you. This is done in a confidential manner. The ECP works best if taken as soon as possible…
Trimethoprim dispensing
This pharmacy has trained pharmacists who can supply the antibiotic, trimethoprim, for women aged between 16 and 65 who have an uncomplicated urinary tract infection.
WINZ and other reports
If you require reports on your medicines or the cost of your medicines please ask a member of the pharmacy team.
Incontinence products
Needle exchange service
This pharmacy is part of the needle exchange service and is happy to assist with the disposal of unwanted sharps in a safe, hygienic manner and provide clean needles for…
Sildenafil dispensing for erectile dysfunction
This pharmacy has specially trained pharmacists who are able to prescribe sildenafil for erectile dysfunction in men aged 35 – 70 years who meet specific assessment criteria.
Medicine & needles disposal service
Unwanted medicines are often dumped into the toilet, tipped down the sink or put out with the garbage, which starts a journey that can seriously harm the environment. Please return…
E-liquid for vaping, natural and organic
Languages Spoken
English, Bahasa Melayu, Cantonese, Chinese, Hokkien, Indonesian, Malay, Mandarin, Taiwanese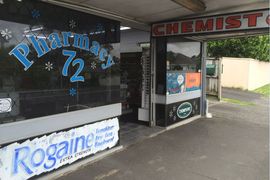 Contact Details
Phone

(09) 410 7800

Fax

(09) 410 7800
Street Address
72 East Coast Rd
Milford
Auckland 0620
Would you recommend this service to family & friends?
This page was last updated at 3:29PM on April 1, 2019. This information is reviewed and edited by Pharmacy 72.