Seven Day Pharmacy
Pharmacy Service
Description
Pharmacists can help to support the health of your family; they can provide advice and treatment for common minor illnesses for all ages.
Pharmacists ensure that prescriptions are dispensed correctly and that the medicine and dose is appropriate for you, so that you receive the maximum benefits from your medicines. Your pharmacist will help you understand what your medicines are prescribed for, how to take them, possible side effects and how to store them.
All advice and treatment is conducted in a professional and confidential manner and most services are provided free of charge and do not generally require an appointment.
Please don't hesitate to contact us directly if you have any questions.
Hours
8:00 AM to 8:30 PM.
| | |
| --- | --- |
| Mon – Sun | 8:00 AM – 8:30 PM |
Dispensing Services
Methadone dispensing
This pharmacy works alongside the DHB methadone programme. Pharmacy staff can administer methadone on a daily, or a takeaway basis, depending on what has been agreed.
Free after hours prescriptions for under 14s
We are able to fill your under-14 year old's prescription for free (if the medication is fully funded) both within normal working hours and after hours.
Other Pharmacy Services
Emergency contraceptive pill (ECP)
Your pharmacists are trained to assess whether the ECP is appropriate for you. This is done in a confidential manner. The ECP works best if taken as soon as possible…
Selected oral contraceptives
This pharmacy has specially trained pharmacists who are able to prescribe selected oral contraceptives to women who meet specific assessment criteria.
Trimethoprim dispensing
This pharmacy has trained pharmacists who can supply the antibiotic, trimethoprim, for women aged between 16 and 65 who have an uncomplicated urinary tract infection.
Sildenafil dispensing for erectile dysfunction
This pharmacy has specially trained pharmacists who are able to prescribe sildenafil for erectile dysfunction in men aged 35 – 70 years who meet specific assessment criteria.
Subsidised nicotine replacement therapy (NRT) products
WINZ and other reports
If you require reports on your medicines or the cost of your medicines please ask a member of the pharmacy team.
Incontinence products
Charges
After hours charges: $2.00 per prescription item after 6.00pm weekdays and all day on weekends and public holidays.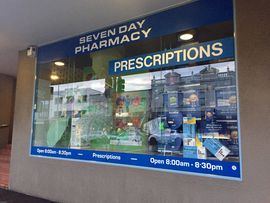 Contact Details
This page was last updated at 12:22PM on October 11, 2018. This information is reviewed and edited by Seven Day Pharmacy.