Today
Open today 8:30 AM to 5:00 PM.
Description
Dr Stephen Mills is one of New Zealand's most accomplished and highly regarded plastic surgeons.
Stephen studied medicine and trained as a plastic surgeon in New Zealand, gaining his surgical fellowship (FRACS) in 1996.
He then worked overseas with some of the world's top plastic surgeons and cosmetic surgeons in Britain and Australia. Returning from overseas in 1999, Stephen became a plastic surgery consultant at Middlemore Hospital where his work has been internationally acknowledged.
Dr Mills began his private plastic surgery practice in 2003 where he specialises in:
Breast Surgery: Breast Enlargement, Breast Lift and Breast Reduction, Breast Reconstruction and Gynaecomastia

Cosmetic Surgery: Tummy Tuck, Arm Reduction, Eyelid Surgery, Browlift, Facelift, Liposuction, Necklift and Otoplasty
Skin Surgery: Scar Revisions, Mole and Benign Lesion Removal, Excessive Armpit Sweating
Hand Surgery: Carpal Tunnel Release, Dupuytrens and Ganglions.
Dr Mills consults from the three locations shown on the right and operates at Gillies Hospital, Brightside Hospital and Auckland City Surgical.
Michele is our practice nurse manager.
Erin Mills is our registered nurse providing non surgical facial rejuvenation and skin care.
What is Plastic Surgery?
Plastic surgery covers a wide range of different surgical procedures that repair, reconstruct or replace structures in many different parts of the body including the skin, face and head, hands, breast and stomach. Plastic surgery does not involve the use of plastic materials.
Plastic surgery can generally be divided into two main types:
Reconstructive surgery: is performed on parts of the body that are abnormal or have been affected by a birth defect, accident or disease. This includes cleft lip and palate repair, scar revision or reconstruction (including skin grafts) following burns. Surgery is usually performed to improve function, but may also be performed to bring the appearance of a part of the body as close as possible to normal.
Aesthetic or cosmetic surgery: improves appearance or body image by reshaping features of the face or body e.g. breast enlargement, face lift, liposuction.
Consultants
Plastic Surgeon
Hours
Open today 8:30 AM to 5:00 PM.
| | |
| --- | --- |
| Mon – Fri | 8:30 AM – 5:00 PM |
Referral Expectations
You will have an initial consultation with your plastic surgeon who will assess your general health and discuss the best type of surgical procedure for you. You will be given instructions on medications to avoid before surgery.
Charges
All costs and charges will be discussed with you. Finance may be available - please click here to read more
Southern Cross Affiliated Provider for Skin Lesions, Skin Checks, Carpal Tunnel Release and Functional Upper Eyelid Blepharoplasty.
Parking
Free patient parking is provided at each clinic.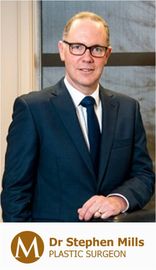 Contact Details
Phone

(09) 575 4749

Fax

(09) 575 4769

Healthlink EDI

millsurg

Website
Or contact us online here
Street Address
Greenwoods Medical Centre
641 Manukau Road
Epsom
Auckland
Postal Address
PO Box 25335
St Heliers
Auckland 1740
Central Auckland
Phone

(09) 575 4749

Fax

(09) 575 4769

Healthlink EDI

millsurg

Website
More details…
Central Auckland
Phone

(09) 575 4749

Fax

(09) 575 4769

Healthlink EDI

millsurg

Website
More details…
This page was last updated at 1:28PM on February 19, 2018. This information is reviewed and edited by Dr Stephen Mills - Plastic Surgeon.