Description
The Kidz First Hearing and Vision Team delivers services to 300 pre-schools and 167 schools within the Counties Manukau region. This Well Child screening programme includes:
Glue ear testing for pre-school children
Hearing and vision testing for new entrants
Vision testing for Intermediate School children
Hearing tests in Public Health Nursing Community Ear Clinics
Mobile Ear Van delivers services to children with high needs (e.g. Kohanga Reo, Pacific language pre-schools and decile one schools).
For maps and directions to Middlemore Hospital please click here.
Charges
There are no charges for services to public patients if you are lawfully in New Zealand and meet one
of the Eligibility Direction's specified criteria set by the Ministry of Health.
If you do not meet the criteria, you will be required to pay for the full costs of any medical treatment
you receive during your stay.
To check whether you meet the specified eligibility criteria, visit the Ministry of Health website www.moh.govt.nz/eligibility
For charges, please phone the Accounts Receivable Office on (09) 276 0060.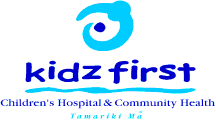 Contact Details
Phone

(09) 259 3854

Fax

(09) 267 7776
Administration Office:
Ph (09) 263 0790
Fax (09) 263 0539
Street Address
Unit B6-459 Roscommon Road
Clendon Park
Manukau 2103
Postal Address
PO Box 88044
Clendon
Manukau 2242
This page was last updated at 11:24AM on February 8, 2017. This information is reviewed and edited by Kidz First Hearing and Vision Testing Service.