Description
What is palliative care?
The palliative care approach respects the wishes and choices of the person and their family/ whanau and emphasises their rights to be kept fully informed about all aspects of treatment and care.
Palliative care supports people and their families/ whanau who are dealing with a serious condition which cannot be cured.
The aim of palliative care is to maintain the highest quality of life possible by relieving distressing physical symptoms (such as pain, nausea or vomiting) and also to address any specific emotional or spiritual needs that the person or their family/ whanau might identify.
When is palliative care helpful?
Palliative care can be helpful at all stages of serious illness, sometimes even when a condition is first identified. Early on, palliative care may help with the management of treatments such as chemotherapy or renal dialysis or with counselling and support for both the person and their family. At any stage when illness is causing major problems or distress, palliative care could help with the provision of support, help and comfort. It should also be available whether the person with the illness is at home, in hospital, or in residential care (rest home or private hospital).
Who provides palliative care for you when you are not in hospital?
General practitioners and district nurses will look after people with serious, non-curable conditions. They can also get help from hospice nurses and doctors for complicated problems. In the greater Auckland region there are several hospices, each of which provides services to the people living in their locality.
The hospices in this region are:
Hospice North Shore, Takapuna: phone (09) 486-1688
Hibiscus Hospice, Orewa: phone (09) 421-9180
Warkworth Wellsford Hospice: phone (09) 425-9535
Hospice West Auckland, Te Atatu Peninsula: phone (09) 834-9750
How can specialist palliative care help when you are in hospital?
The Hospital Palliative Care Team can provide relief, comfort, information and expertise in a number of different ways, including:
treatment of pain and other symptoms (such as nausea and/or vomiting, breathing difficulties and sleeping problems) to improve your comfort
emotional and spiritual support for you and your family/ whanau. Serious illness can be frightening and sad and sometimes thoughts and feelings are troublesome. Having someone to talk with can often make a major difference
provision of information about medications and treatments and the reason they are used
guidance and support with decisions and choices about treatment and care which may be difficult or confusing when you have a life-threatening illness
help with understanding the healthcare system, which can be confusing and overwhelming especially if you are under the care of several different teams
help with co-ordinating care at home and in the community. On leaving hospital you may need ongoing support and care. The Palliative Care team is able to help with discharge planning and to provide links with the right services for you
support with end-of-life issues. When death is close it is important that your care in hospital is focussed on keeping you comfortable and meeting the needs and wishes of you and your family/ whanau
along with social work services, the Palliative Care Team can provide support with worrying areas such as finances, work, or relationship problems to both find solutions and resolve concerns.
How can you contact the Hospital Palliative Care Team?
Team members are able to see inpatients at North Shore and Waitakere hospitals. You may ask to see someone from the Palliative Care Team yourself or the doctors or nurses looking after you on the ward may talk to you about whether you would like them to visit you.
Hospital Palliative Care Team members
The team members are doctors and nurses who have specialist training and expertise in palliative care.
Palliative Medicine Specialists
Dr Colleen van der Vyver
Palliative Medicine Registrar
Full time position - 6 monthly rotations
Clinical Nurse Specialists
Tania Chalton
Sandra Notley
Wendy Matthew
Michaela Davis
(Gaylene Kolodzinkski)
Hours
| | |
| --- | --- |
| Mon – Fri | 8:00 AM – 4:30 PM |
Patients are either seen by the Palliative Care Team or advice is given to the medical/surgical team by telephone contact.
Referral Expectations
Referrals for inpatients are accepted from any health professional involved with their care provided that the medical team is aware of and has agreed to the referral being made.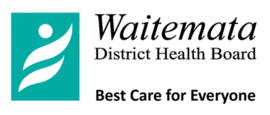 Contact Details
Would you recommend this service to family and friends?
This page was last updated at 9:47AM on November 9, 2017. This information is reviewed and edited by Waitemata DHB Hospital Palliative Care Team.