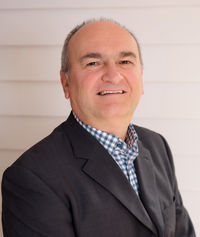 Interests
Dr Dragan Damianovich has been a consultant medical oncologist at Auckland Hospital since 2006 and at Oncology161 since 2008. He is currently Gastrointestinal Cancer Team Leader at Auckland City Hospital.
Dragan's primary interests are in the treatment of patients with gastrointestinal, lung, neuroendocrine and brain cancers. He has been a principal investigator in a number of international clinical trials. He has been a member of a working group for the development of Australian and New Zealand neuroendocrine tumour treatment guidelines.
He is also a member of the Australian Gastrointestinal Trials Group (AGITG), the Americal Society of Clinical Oncology (ASCO) and the International Association for the Study of Lung Cancer (IASLC).

Qualifications
MD 1984 Zagreb; FRACP 2005
Subspecialties
Thoracic Oncology
Gastrointestinal Cancer
CNS Cancer
Post-fellowship Training
Dr Dragan Damianovich did his undergraduate medical training at University Hospital in Zagreb, Croatia, where he also obtained his Master's Degree in Clinical Pharmacology in 1992.
Having completed his postgraduate haematology training in Zagreb he moved to New Zealand in 1994.
He undertook his postgraduate oncology training in Auckland and completed one year of fellowship in 2006 at the Austin Hospital in Melbourne, Australia.
Full NZ Registration Date
Contact Details
Dr Dragan Damianovich is available at the following services:
This service is available at the following location:
Auckland City Hospital
Phone

(09) 367 0000

Website
Patient enquiries

(09) 375 4300

Known extension/pager

(09) 307 4949

Admission & Planning Unit

Ext 24210 / 23225 | Fax: (09) 375 7038

Acute Referrals Service

(09) 375 7030, Ext: 24048 |Fax: (09) 307 2858

Emergency Department

(09) 376 0000, open 24 hours / 7 days

Outpatient appointments & surgical booking enquiries

(09) 638 0400 / scheduling@adhb.govt.nz
Mental Health Services
24 Hour Crisis Line

0800 800717
GP / External Specialist Help Desk

(09) 307 2800
Private Services
This service is available at the following location:
125 Remuera Road, Remuera, Auckland
Phone

(09) 524 0125

Fax

(09) 524 5125

Healthlink EDI

auckonco

Website