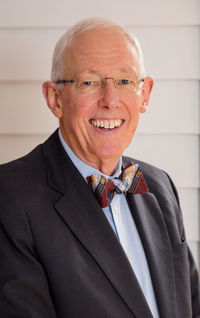 Interests
Vernon Harvey M.D. (Lond), F.R.C.P. (Edin), F.R.A.C.P., FAChPM, has been a consultant Medical Oncologist at Auckland Hospital since 1984 and in private practice since 1992.
He is a Clinical Associate Professor in the Department of Oncology at the University of Auckland Medical School.
Vernon's primary interest is the management of patients with breast cancer. He is a keen supporter of clinical trials and the Principal Investigator of a large number of clinical trials in early and advanced breast cancer and drug development. He is an active member of several breast cancer co-operative trial groups, including the ANZ Breast Cancer Trials Group (ANZBCTG), the International Breast Cancer Study Group (IBCSG), Breast International Group (BIG), the Breast Cancer International Research Group (BCIRG) and the Early Breast Cancer Trialist's Group (EBCTG). He is Chairman and Scientific Director of the Auckland Breast Cancer Study Group. He was made an Officer of the New Zealand Order of Merit (ONZM) for services to Medicine, particularly Oncology Research in the 2010 New Years Honours.
Vernon has involved in several NZ governmental committees related to cancer and is a member of the Cancer Treatment Subcommittee of PHARMAC, the government agency responsible for public funding of medicines within the NZ Health Service.
Vernon consults at Oncology 161 on a weekly basis.
Qualifications
MB BS 1968 Lond; MRCS Eng LRCP Lond 1968; MRCP 1973; FRACP 1978; MD 1986 Lond
Post-fellowship Training
Vernon Harvey trained in medicine at Guy's Hospital, London and undertook his postgraduate oncology training in Auckland and at St Bartholomew's Hospital in London.
Full NZ Registration Date
Contact Details
Dr Vernon Harvey is available at the following services:
This service is available at the following location:
Auckland City Hospital
Phone

(09) 367 0000

Website
Patient enquiries

(09) 375 4300

Known extension/pager

(09) 307 4949

Admission & Planning Unit

Ext 24210 / 23225 | Fax: (09) 375 7038

Acute Referrals Service

(09) 375 7030, Ext: 24048 |Fax: (09) 307 2858

Emergency Department

(09) 376 0000, open 24 hours / 7 days

Outpatient appointments & surgical booking enquiries

(09) 638 0400 / scheduling@adhb.govt.nz
Mental Health Services
24 Hour Crisis Line

0800 800717
GP / External Specialist Help Desk

(09) 307 2800
Private Services
This service is available at the following location:
125 Remuera Road, Remuera, Auckland
Phone

(09) 524 0125

Fax

(09) 524 5125

Healthlink EDI

auckonco

Website