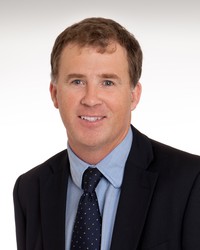 Interests
Murray Cox is originally from New Plymouth. Since January 2009, Murray has worked as a Consultant Vascular Surgeon at Middlemore Hospital.
In this work, he is involved in all areas of Vascular Surgery including:
carotid surgery
aortic (open and endovascular) surgery
peripheral surgery
renal access surgery
varicose vein surgery
hyperhidrosis surgery
hernia surgery
Other professional interests include surgeon training and resource utilisation in the setting of a limited health budget.

His position at Middlemore Hospital includes an attachment as an Honorary Clinical Lecturer with the University of Auckland Medical School. He currently is the head of the Trauma Service at Middlemore.

Murray is also available for consultation in the private sector.

He is married to a general surgeon and has two children.
Qualifications
MB ChB 1992 Otago; FRACS 2004; FRACS (Vasc Surg) 2009
Title or Designation
Vascular Surgeon, , General Surgeon, Vascular and General Surgeon
Post-fellowship Training
He attended medical school at Otago University and after his House Surgeon years back in Taranaki, he undertook General Surgical training through the Wellington region gaining the FRACS (General) in 2004. After some time overseas gaining further experience in General Surgery and Trauma, he then completed the Australasian training in Vascular & Endovascular Surgery through Westmead (Sydney), Auckland and Waikato Hospitals gaining the FRACS (Vascular) in 2008.
Full NZ Registration Date
Vocational Scope
Vascular Surgery, General Surgery
Contact Details
Mr Murray Cox is available at the following services:
Public Services
This service is available at the following locations:
Middlemore Hospital
Phone

(09) 276 0000 (All Departments)
Patient Enquiries (09) 276 5004
Information or Visiting Hours (09) 270 4799

Outpatient appointments & surgical booking enquiries:
Ph (09) 277 1660 | Fax (09) 277 1600
Email: Customerservice@middlemore.co.nz
Emergency Department: Open 24 hours / 7 days, Phone (09) 276 0000
Manukau SuperClinic™
Phone

09 277 1660

Fax

09 277 1600
Manukau SuperClinic™ has a Call Centre to receive incoming calls related to outpatient services. The Call Centre is open to receive calls between 7:30 AM and 6:00 PM Monday to Friday.
Manukau Surgery Centre
Ph: (09) 277 1608 (Theatre Unit)
Ph: (09) 277 1655 (Ward Enquiries)
Ph: (09) 250 8034 (Rito Unit)
Email: customerservice@middlemore.co.nz
Outpatient appointments
& surgical booking enquiries
Ph (09) 277 1660
Private Surgical Services
This service is available at the following location:
Southern Cross Hospital - New Plymouth
Phone

(06) 759 4820

Fax

(06) 758 0295
This service is available at the following location:
Southern Cross Hospital - New Plymouth
Phone

(06) 759 4820

Fax

(06) 758 0295